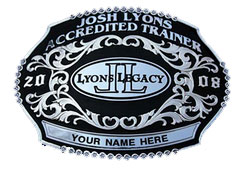 The Josh Lyons Accreditation Program was developed for those who have a solid foundation with their training or are Josh & John Lyons Certified trainers looking to take the next step in their education.  The structure of this program is to improve the training techniques needed to go to the show pen or train for higher level performance based clients.
For most of our students this is reining, dressage, cutting, jumping, western pleasure, ranch horse versatility, mounting shooting, or extreme cowboy events. The program is designed as a four-week hands on course working personally with Josh to obtain the skills necessary to reach your desired goal. Students will start the program preparing their horse with exercises to improve softness and collection imperative to performance.
Sign Up to Receive More Information!
Just enter your information below and our program coordinator will get in touch with you to go over the details of the program.
By submitting this form, you are granting: Josh Lyons LLC, 8606 Guthrie Court, Cross Plains, Tennessee, 37049, United States, http://www.lyonslegacycom permission to email you. You may unsubscribe via the link found at the bottom of every email. (See our Email Privacy Policy for details.) Emails are serviced by Constant Contact.