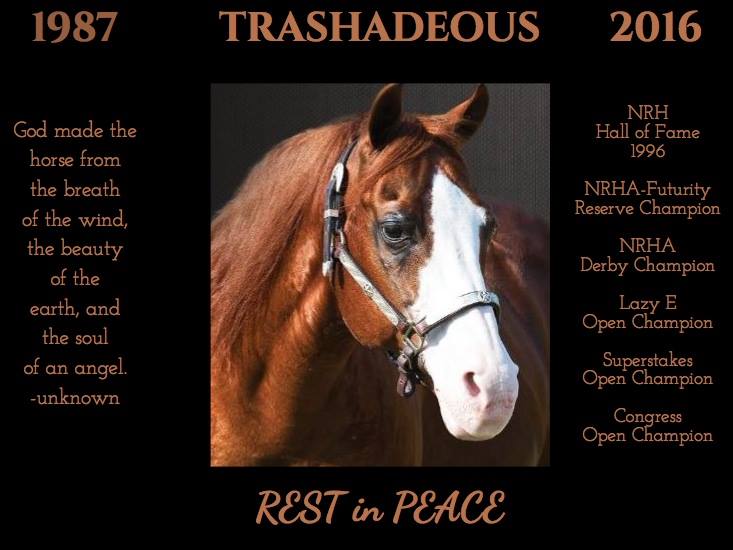 On January 16th, 2016, our beloved Trashadeous peacefully passed away, and was laid to rest in his favorite pasture. He will be memorialized forever at Lyons Legacy Performance Horses.
It has been an honor to be a part of his life for the short time that we owned him, and we share in the sorrow with everyone who played a part in this great horse's life. Please join us in celebrating his life by sharing your stories of Trashadeous, pictures of his off-spring and hopes for the future.
With great love,
Josh, Greg and the Gang at Lyons Legacy Performance Horses
THE LEGACY CONTINUES!!!
SILVER SPURS EQUINE is the new owner of all TRASHADEOUS frozen semen. All breeding's will be sold via private treaty, and everyone knows that if it is sold by Silver Spurs Equine it is going to be a great deal!!! Call 480-563-1966 x 3 or email mmiola99@aol.com for more information. Every serious breeder must have a Trashadeous. Mike will make you a deal that you can't refuse!!!
With great love,
Josh, Greg and the Gang at Lyons Legacy Performance Horses
Career Highlights
NRHA LTE: $131,000+
NRHA Hall of Fame Member (1996)
NRHA Futurity Reserve Champion
NRHA Derby Champion
Lazy E Classic Open Champion
NRHA Superstakes Open Champion
Congress NRHA Open Champion
Programs: NRBC Nominated, Sire & Dam Program
Registries: APHA, AQHA
Video of Trashadeous

Affiliations
Media
One Man's Trash" 1992 Paint Horse Journal"
Paints Shine at the Superbowl of Reining" March 1993 Paint Horse Journal"
NRHA's Million Dollar Man Rode Paints" May 1995 Paint Horse Journal"
One Man's Trash" April 1998 Paint Horse Journal"
Trashadeous Slides Into History" September 1998 Paint Horse Journal"
Paint Portfolio" October 2003 Paint Horse Journal"
Progeny Top Earners:
Kiss My Trash
Glendas Smoken Trash
Tari Trash
Sprezzaztura
Trash Attack
Natrasha
Jumpin Jac Trash
Chics Lil Trash
Compacted Trash
Trashdance
Touch Of Trash
Miss Trashy Lacy
Trashtastic
Ramblin Trash
Talkin Some Trash
Trash A Smoking
Smokin Trash
Haulin Trash
No Collen Me Trashy
Pats Trashy Lady
Chalupadeous
Deetrashman
Smoking Glenda Jac
Cash In On Trash