Imagine spending two to three educationally packed days with Josh while he demonstrates the Lyons' Conditioned Response Method while on tour in a city near you. During most Symposiums, Josh will demonstrate his Lyons Method to a large audience.
You can personally experience all of the obstacles that Josh and the demonstration horse overcome as Josh lays the foundation for the horse's first ride and more!
For specific details on the Josh Lyons Symposium nearest you, or to schedule a Symposium at your facility please call our office at 615-379-1056.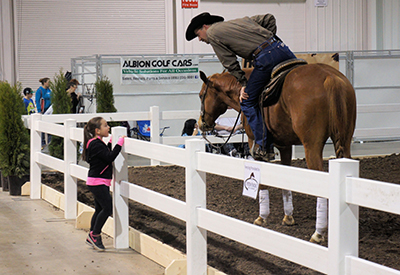 What's Covered at a Josh Lyons Symposium?
Proper Round Pen Use
Bridling a Horse For The First Time
Teaching a Horse To Accept a Saddle Blanket and Saddle
Properly Handling a Horse's Fear
Proper Mounting and Dismounting Techniques on an Unbroke Horse
Taking First Steps on an Unbroke Horse
Introducing Your Legs to an Unbroke Horse
The audience will have the opportunity to interact with Josh daily by asking questions.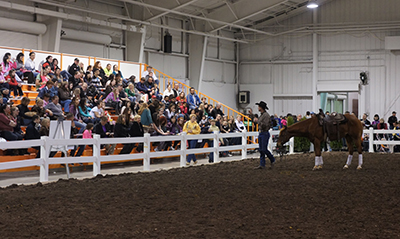 A Typical Symposium Schedule
Friday:
Josh will use his personal horses to demonstrate the Lyons' Method as he starts an unbroke horse. Demonstrate the proper method to load a horse into a trailer. Present and demonstrate higher level performance riding and training techniques.
Saturday:
Josh will demonstrate his humane methods to "break" an unbroke horse. He will introduce the horse to the round pen and will establish good ground control.
Josh will demonstrate proper techniques when dealing with an unbroke horse's first saddling, he will establish safe mounting and dismounting techniques, as well. The majority of the will be spent working with an unbroke horse to develop a good foundation from which to build upon. Josh will use his own horse to show where Lyons Method training can take you.
Sunday:
Josh picks up where he left off on the previous day with the unbroke horse, by introducing his legs. In the afternoon, there may be a trailer loading lesson that demonstrates the steps needed to fix loading problems, or how to load your horse for the first time.