Certification Program


Registration
The John & Josh Lyons Certification Program is designed to teach the Lyons conditioned-response training methods in greater depth to people seeking more knowledge and understanding in the equine field.
This program is an excellent educational opportunity for those of you who are looking to improve your personal horse training knowledge and skills. Not only can you gain more knowledge, you will acquire the skills to increase your income potential as well.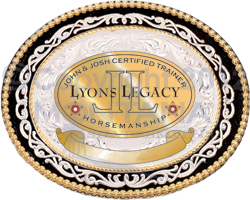 Request Additional Information
Enter your information below and our program coordinator will get in touch with you to go over the details of the program.