[row]
[full_column]
[row]
[paragraph]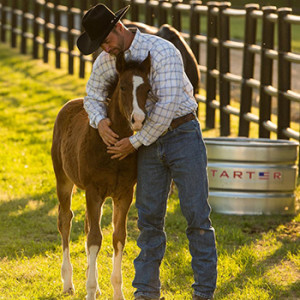 Josh Lyons has earned a place among the world's top horsemen by applying a simple philosophy: "Knowledge and motivation are the only tools needed to bring with you to the barn."
As a world renowned horse trainers and clinician, Josh helps all levels of horse enthusiasts and riders. Whether you're a trainer looking to improve your skills or a trail rider hoping to have a better relationship with your horse, Josh offers a comprehensive and easy to follow
program to suit your needs.
Josh's "trust not trauma" approach to horsemanship has not only made him a respected top horseman and trainer, it has also given him the opportunity to solve any horse problem(s). At the core of Josh's program is a cruelty-free, conditioned response training method that provides in-depth understanding for the horse while teaching a handler how to safely, confidently, and positively work with the horse. This tried and true method offers confidence building for both horse and rider/handler and has a longstanding, proven, record of success.
[button link="http://www.joshlyons.com/about" color="black"]More About Josh Lyons[/button]
[/row]
[divider]
[row]
Shop in our on-line store for First Aid Kits, Logo Decals, Porta Grazer Feeders, Saddle Pads, Saddles, Books, Clothing, John Lyons , Books, Videos & Products, Tack and Videos.
[/row]
[divider]
[row]
[/row]
[row]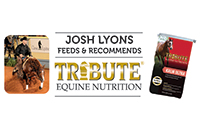 NEW SPONSOR!
Josh Lyons feeds and recommends, Tribute Equine Nutrition.
WWW.TRIBUTEHORSEFEEDS.COM
[/row]
[divider]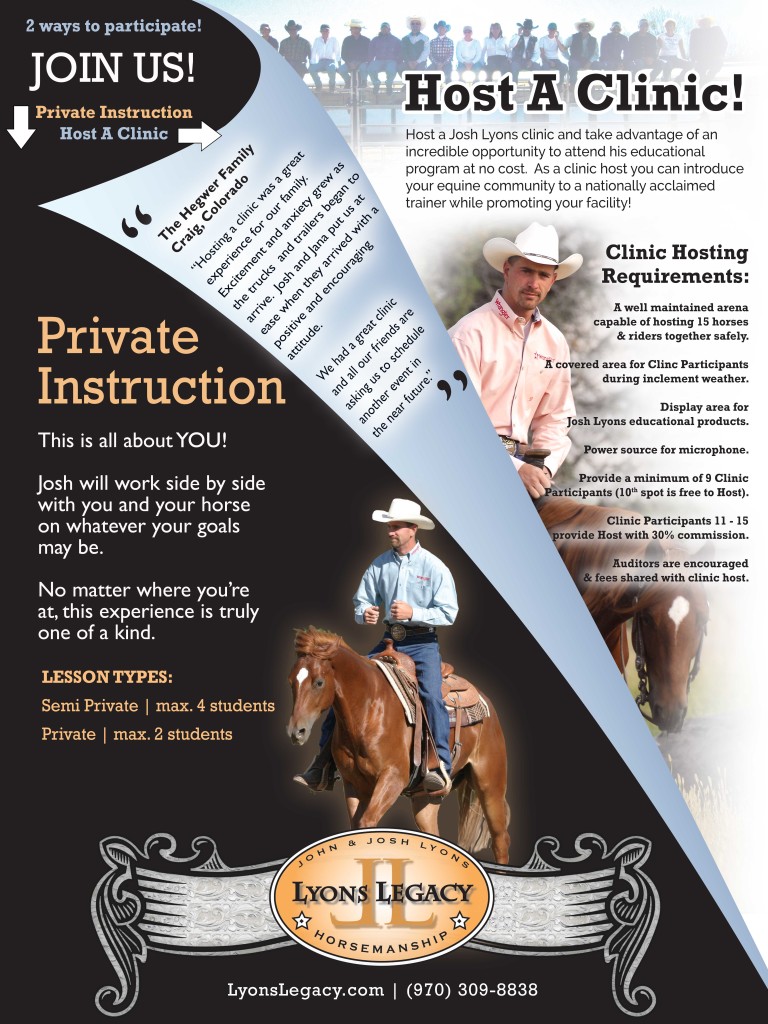 [divider]
[h3]Get Info[/h3]
| | | | |
| --- | --- | --- | --- |
|   |   |   |   |
| Improve your skills with Josh Lyons non-pro programs including, Cinics, Symposiums & Private Instruction at the ranch. | Become a trainer using Josh's comprehensive  training courses designed for individuals seeking a career in training. | Meet our Broodmares | Get official Josh Lyons Official training gear. Quality Bits, Stirrups, Halters and Lead Ropes, Training Aids, Apparel and DVDs. |
[divider]