John Baird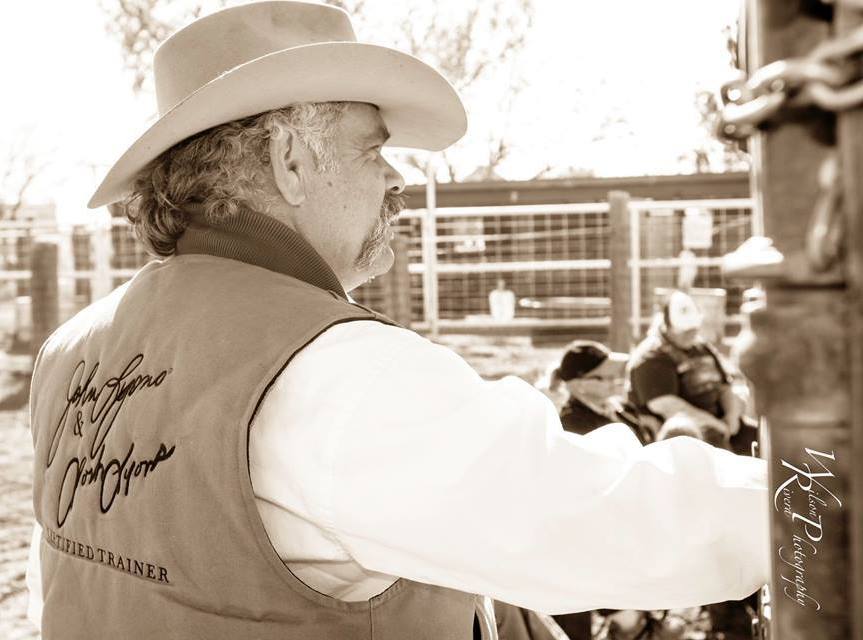 "I am an 80% disabled, retired, combat veteran of the US Army who has enjoyed horses his entire life. I am now helping others enjoy their horses better by offering clinics, riding lessons and horse training."
Biography
John Baird started his life in horses at the early age of 5 years old. His first ride consisted of a Shetland pony, a long line and halter, and a bunch of horsemen at a party. After an eternity of hanging onto that pony for dear life, John's love of horses never ceased.
Living on a farm in East Tennessee and having horseman, Doyle Goodson as a step-father afforded him a unique opportunity to begin learning horsemanship skills before he could write his name in cursive!
It wasn't until after John joined the Army and moved on that he was able to begin enjoying horses again.
As his military career was coming to a close, he decided it was time to get back into horses on a normal basis so he and his wife Patricia sold their two homes in El Paso, Texas and bought 12 acres in Chaparral, NM in 2007. Since then, they have started a Quarter Horse breeding program in an attempt to bring back the best of the best of the bloodline.
John is always seeking knowledge and new ways to care for and train horses. In 2013, he attended and graduated the John and Josh Lyons, Lyons' Legacy trainer certification program in Cross Plains, Tennessee. With the mentorship of great horsemen of the Appalachian Mountains, such as Doyle Goodson, RA Bright, Don Everett, Lane Looper and horsemen of the West like Roy Dean Wood and John Joyner combined with John and Josh Lyons techniques, John now trains horses, gives private lessons, sponsors a local Boy Scout troop with a camping area on the ranch and assists them in earning their equine merit badges, performs demonstrations and clinics and is sought after by many clinicians and trainers for his advice. John's philosophy on horses and horsemanship is very basic…."With enough positive training and time spent together, the horseman and the horse become two souls acting as one." He gives credit to his success in his life to the good Lord, good friends and family and a good woman for a wife.
---
Randy Helm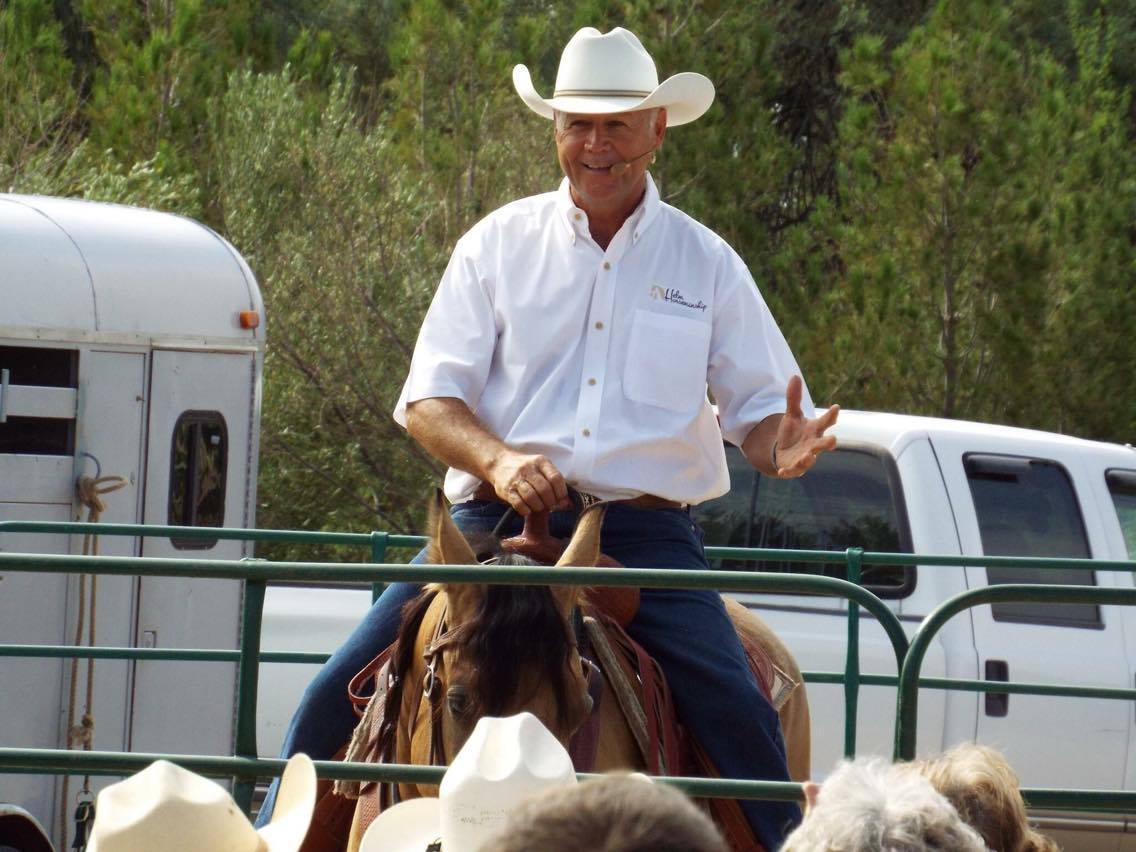 Married to an amazing woman. "Libby is the love of my life!"
Have 5 wonderful children, Aaron, Brandon, Rebekah, Abigail & Cayna.
2 Daughters in law and 4 grandchildren.
"I was privileged to be the Pastor of Hope Chapel for 19 years. I currently am the wild horse and burro program specialist for the Arizona Dept. of Corrections in Florence."
Biography
Randy Helm is a horse whisperer who teaches inmates at the Arizona State Prison Complex in Florence how to tame wild horses. Through the process of training wild mustangs, the inmates learn that they too can live another way.
A few years ago, Pastor Randy Helm of Hope Church in Glendale discovered something about himself that he was completely unaware of. He has a gift with horses. Randy can do things with wild or abused horses that very few people in the world can do. Put a wild horse right off the range from Nevada in a circular horse pen with him and in a few sessions the horse will be well on the way to being saddle broken.
Randy is a horse whisperer. Horses, domestic, abused or wild, just trust him. Wanting to become even more proficient with his gift, he became a certified trainer at the Lyons Legacy training center in Tennessee.
Randy was born to be a cowboy, and not just because he cuts a classic profile in leather boots and a ten-gallon hat.
A fourth-generation Arizonan, Helm, 62, grew up on ranches, tending crops and cattle and training horses. There was a stint in the Air Force and a job in law enforcement. In 1993, he trained his first wild horse.
The 5-year-old mare proved an enticing challenge, and the learning curve was steep. The process, Helm said, is trickier, more delicate than with other horses. They spook easily, and their fight-or-flight impulse can have a hair trigger.
Helm was hooked.
---
Patrick Benson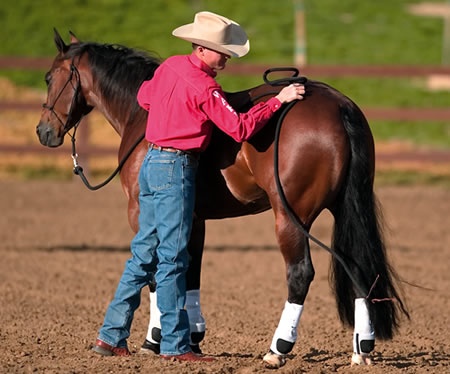 Patrick Benson Equestrian
Biography
Patrick Benson, John Lyons Certified Trainer, shares how his passion for horses and training began:
As a child, I loved riding horses every chance I could. This love and enthusiasm motivated me to volunteer as a wrangler at our church camp as a teenager. After high school, I readily enlisted in the US Army Infantry serving in the Kosovo Campaigns in 1999, and in Operation Iraqi Freedom in 2003. While stationed in Colorado Springs, I volunteered my time with one of the local ranchers. When doing chores around the ranch one day, I realized my true passion for horses and my love for teaching and I knew those were the things I wanted to build my life around.
After my military experience, I attended John and Josh Lyons Certification Program and received my certification in 2004. I then established PB Equestrian L.L.C. and have enjoyed teaching my training philosophy of horsemanship since that time.
Patrick Benson Equestrian offers clinics for ALL riders at varying stages of experience. From beginners to apprentices, training methods are delivered with patience and consistency for proven results. Goal-oriented methods are at the heart of all clinics which are customized depending on the goals of the group. Riders can expect to gain confidence and improve their communication with their horse.
---
Jessica Atkin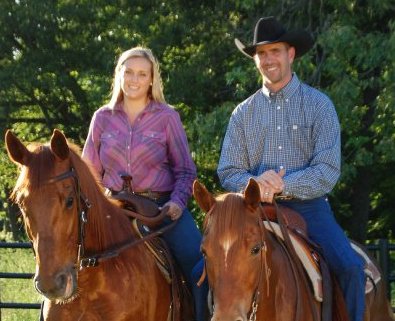 Patrick Benson Equestrian
Biography
My name is Jessica Atkin. I'm a military veteran, that spent 13 months in Iraq training Iraqi police.
I am a John & Josh Certified Trainer. I use the method that Josh taught me to train horses so I could put myself through medical school to become an equine surgeon.
I specialize in training thoroughbreds, mainly OTTB's. My family has trained race horses for three generations now and I'm proud to be part of it.
When I got out of the military, I've created an honorary equine therapy program for veterans and children with disabilities to help them out. I've seen what horses are capable to do, their healing power it's amazing.